I read a post from a
Toyriffic
regarding a graphic novel
"Laika" by Nick Abadzis
he just read.
I know they sent monkey to space but dog? Who sent him to space? How long did he spent in space? Did Laika return to earth alive? That interest me and I went searching for more details until I finally found one.

It was found on http://www.rferl.org/content/article/1079071.html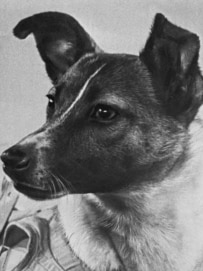 November 3, 2007 (RFE/RL) -- Fifty years ago today, a stray dog called Laika became the first earthling to reach outer space.


The flight was a crowning triumph for the Soviet Union in the emerging space race with the United States. Just a month earlier, Moscow had successfully lifted Sputnik I, the world's first satellite, into orbit.

'Victory For Mankind'

Oleg Mukhin, the vice president of the Russian Federation of Astronautics, says November 3, 1957, was a victorious day for the USSR. "It was a victory for the whole country and a global achievement," he says. "It symbolized mankind's science, it was a victory for mankind. Of course, we are proud that our country took these first, great steps into the cosmos."

But amid the cheering, one man was grieving for the ill-fated dog. Oleg Gazenko, the director of the Institute of Biomedical Problems, was responsible for training Laika. He knew the Sputnik II aircraft that would take the dog to space did not have the technology necessary to return her safely to Earth.

"Newspapers, radio, and television were ecstatic," Gazenko says. "But I must admit that my heart was very heavy. Firstly, I understood that the animal would not be able to come back to Earth. Secondly, I knew that the temperature in the rocket's cabin gradually rose during the first hours. I guessed that the dog was dead."

Soviet scientists originally planned for Laika to spend seven days in orbit before being euthanized. But due to a malfunction in the thermal-control system, Laika died of stress and heat exhaustion within hours of the launch.

Five months and 2,570 orbits later, in April 1958, her capsule burned up upon reentry into the Earth's atmosphere.

Ahead of the Sputnik II mission, several dogs had been flown to the stratosphere on a rocket and parachuted back to Earth. But for the first space flight, Gazenko picked Laika from a pool of three canines selected for the experiment. He describes Laika as a friendly, endearing dog.


*source

Gazenko says Laika's six-month training was intense. "She had to be trained to sit still in a small cubicle, to eat gel-like food dispensed by a small machine, to get used to the stress and irritating aspects of space flight," Gazenko says. "We accustomed her to the sound of rocket engines and spun her in a centrifuge."

The mutt was also trained to wear a spacesuit dotted with sensors to monitor her heartbeat, blood pressure, and breathing.

Despite Laika's ordeal, the mission was deemed a success. By proving that a mammal could survive liftoff and weightlessness, Laika paved the way for manned flights to outer space.

In April 1961, the world's first cosmonaut, the Soviet Union's Yury Gagarin, blasted into space.

State Secret Revealed

The circumstances surrounding Laika's death remained a state secret for 45 years. To soothe outraged animal lovers around the globe, Soviet officials insisted the four-legged cosmonaut had died peacefully after a week in space, by eating a specially planned toxic substance that mission organizers said would allow for a painless euthanasia.

The truth was revealed only in 2002 by Dmitry Malachenkov, a scientist who had worked on the Sputnik II mission.

To this day, the 88-year-old Gazenko says he is regularly gripped by remorse over Laika's death. But perishing in space, he says, was Laika's fate.

"Unfortunately, the mission was necessary," he says. "Before Laika's flight, we were able study the effects of weightlessness for just a few minutes. Laika's flight showed that the path to space was open for the Earth's living beings."



I can't help but to feel sad that they put such living creature to such experiments knowing the certain risk.

Maybe this page of Laika said it all...